Powerful,

next generation

messaging technology
Panquake BETA - Frequently Asked Questions
1.

When will the Beta be released?

This is a crowdfunded build. Once we hit our Phase 3 funding target we will have the resources necessary to release the Beta. (We have just begun our 3rd and final funding round). So the more people help to spread the word and encourage donations, the faster we will be able to release the Beta.
2.

How will I know if I've been accepted?

When you apply at panquake.com/5000 you will be given an application token. When we release the BETA, enter the token to see if you have been accepted. If you haven't, you'll get a gift from us!
3.

I already have a code from you. Was that for the Beta?

The join codes received by Panquake supporters grant early access to the full PUBLIC RELEASE (2.0) of the Panquake application. Once Panquake is ready to go global, those with early access codes will be on-boarded first.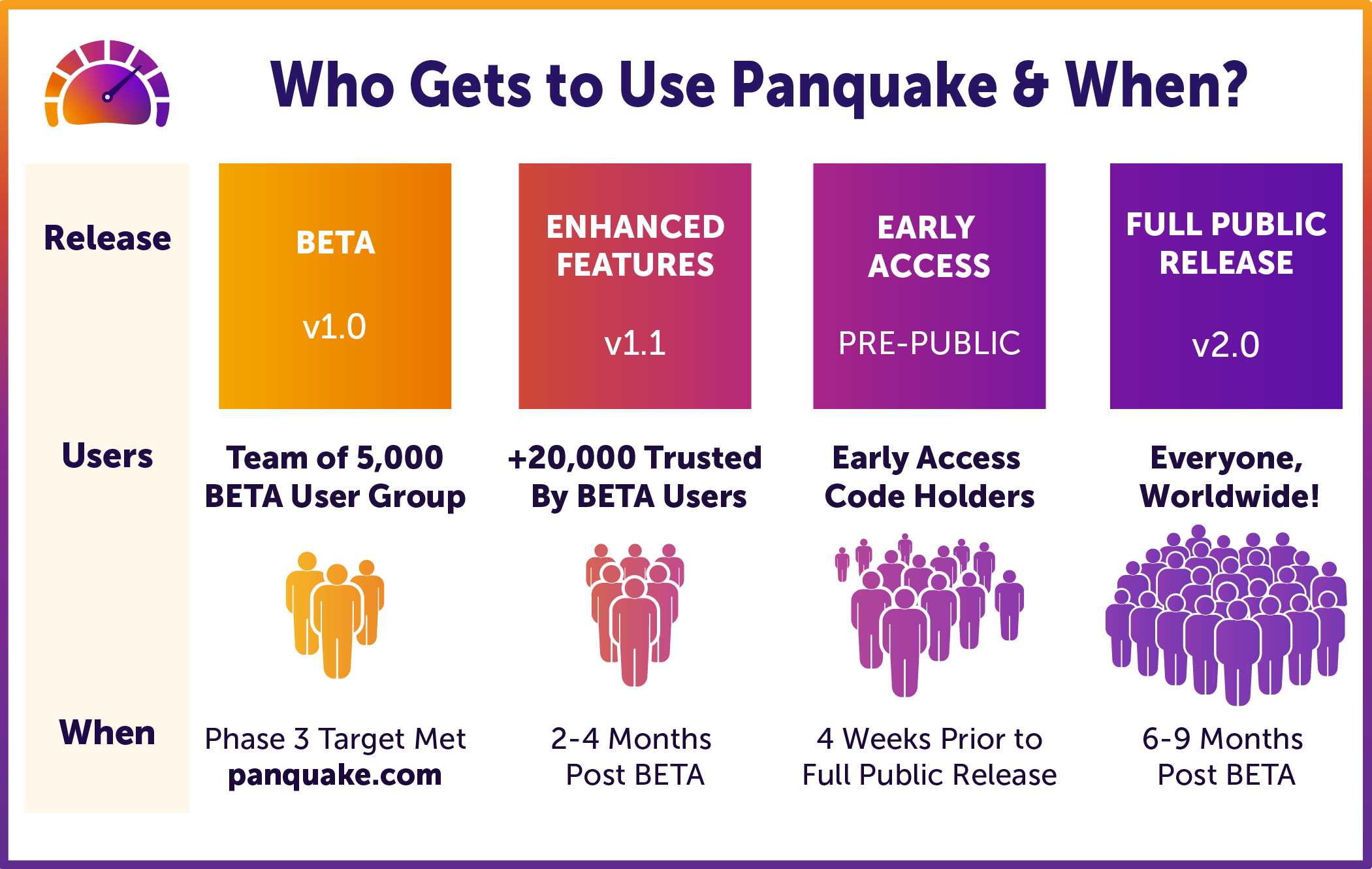 4.

Why does a privacy platform require my existing social media handle to apply to join the Beta?

The answer to this is technical - we use a Proof of Authority algorithm to operate our blockchain. This is great because it means our chain doesn't need to be mined - and therefore doesn't consume large amounts of energy - however it does require that we be able to fully trust in the integrity of our initial set of users. Therefore we need to vet the 5,000 users that will form the core of our network, in order to provide optimum security and longevity for the millions of users that will later use Panquake.
5.

In what way will you use the existing social media handle that I supply in the application process?

Unlike most other software releases, our BETA application process does not collect your real name, your email address, your phone number, payment information or any other personal/private data. The social media handle you supplied us as a reference will only be used in the vetting process and then immediately discarded. It will not be tied to your Panquake BETA account. All Panquake users will be able to utilise our network with privacy and should they wish it, anonymity - including BETA users, who can select any Panquake handle they wish, whether it is the same handle they use on another social network or not.
6.

Will I be able to invite my friends/family?

In our v1.1 enhanced feature release, Beta users will be able to invite 4 people each who *they* know and trust, to join the network, for a total of 25,000 users. These users will be 'partly trusted' users on our network and form the second protective trust layer that will secure our blockchain operations.
Your Kitchen
Your Data
Your Choice