Our press team loves working with journalists around the world to share compelling stories on our innovative tech. If you're a member of the media, a content creator or influencer and would like to talk, please get in touch with our team via media@talkliberation.com
To see who we have available for comment, interviews, event presentations or appearances check out Our People.
If you're a Panquake customer and have a question, please email us at contact@talkliberation.com
The people behind Panquake are innovative and experienced industry leaders available for comment, interviews, event presentations or appearances.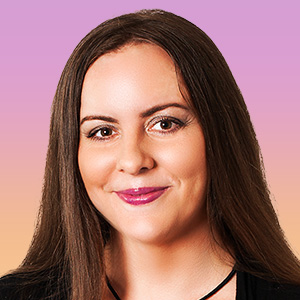 Suzie Dawson
Managing Director, Chief Product Officer
Design, Delivery Management, Campaign
Enterprise Software Development Manager
Former Leader, Internet Party of New Zealand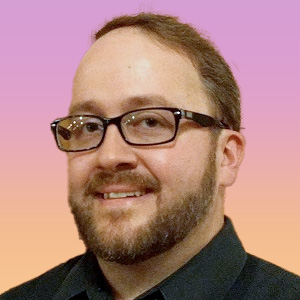 Sean O'Brien
Chief Technology Officer
Systems, Infrastructure, Security, Licensing
Yale Law School Cybersecurity Professor
Privacy Lab Founder, Yale Law School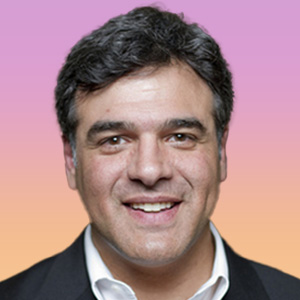 John Kiriakou
Brand Ambassador
Media, Promotions, Business Development
Former CIA Officer
New York Times Best-selling Author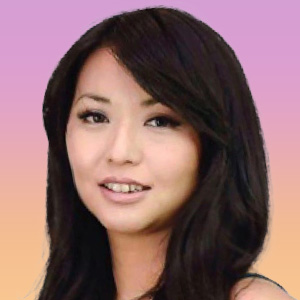 Sheree Ip
Public Relations Manager
Marketing Strategy, Communications, PR
JD, GDLP, PGCL, BComm
Blockchain Professional
To date, over 3 million people have visited Panquake.com and over 3,800 donors have contributed funds towards the development of the next generation social media technology.
Since Panquake first discussed a ground breaking idea of a crowdfunded social media application where the users are the customers ‒ not the product ‒ Panquake's build has achieved a series of major milestones, from network design proof of concept to a fully functioning application interface.
Members of the public have flocked to apply to become Panquake BETA users and Panquake is in its final build phase in order to launch the BETA offering.
Visitors to Panquake.com are:
joining a community dedicated to the delivery of a product which will bring next generation solutions to a market that is hungry for change

successfully crowdfunding to contribute to the product development at https://panquake.com/donate, and

spreading the word that things can and will be different.
With Big Tech algorithms, AI moderation and massive data breaches rendering outdated, monopoly platforms obsolete, Panquake offers a vital and timely solution.
Pnqk.me makes sharing links safer than ever before. It removes nasty trackers, archives source content and shortens links all in one easy click. It is free to use for members of the public and an enterprise version is in the works. Read the FAQ page for more details, download the Pnqk.me press release or if you're a techy, check out our source code at this link.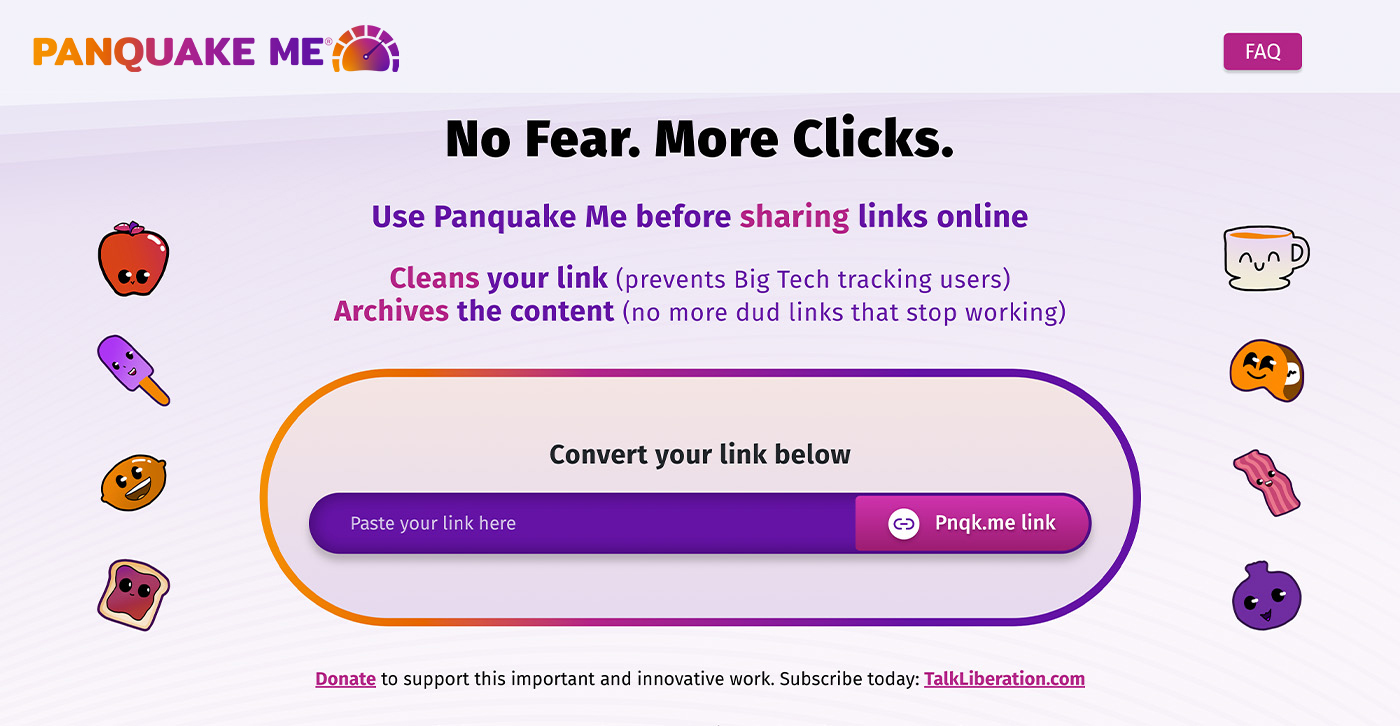 Founder and Chief Product Officer, Suzie Dawson, said:
Panquake Me user adoption metrics are outstanding. In November 2023 it was announced that 86.38% of users visiting Pnqk.me were successfully engaging with the product and completing the link creation workflow. The click-to-link ratio was 395.82%, confirming that the links created by users were being circulated online and clicked on by other users. The total domain validation checks performed by our team stood at an impressive 20,483.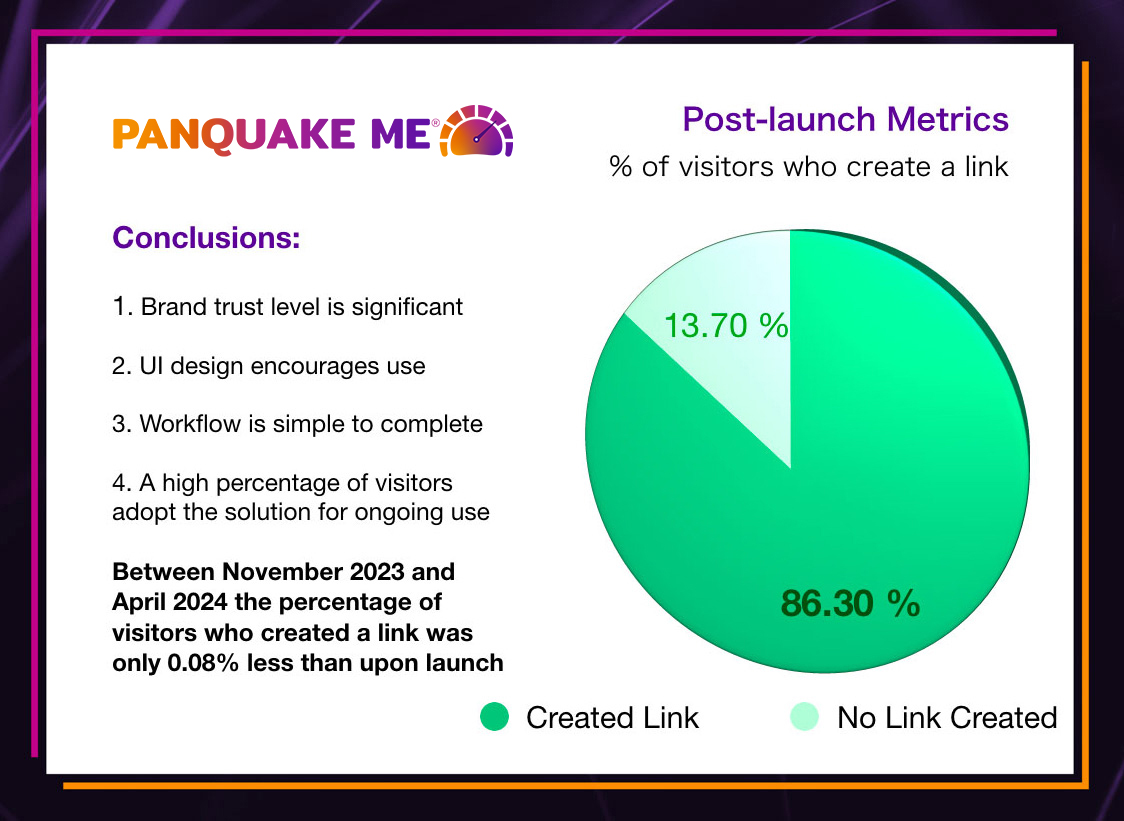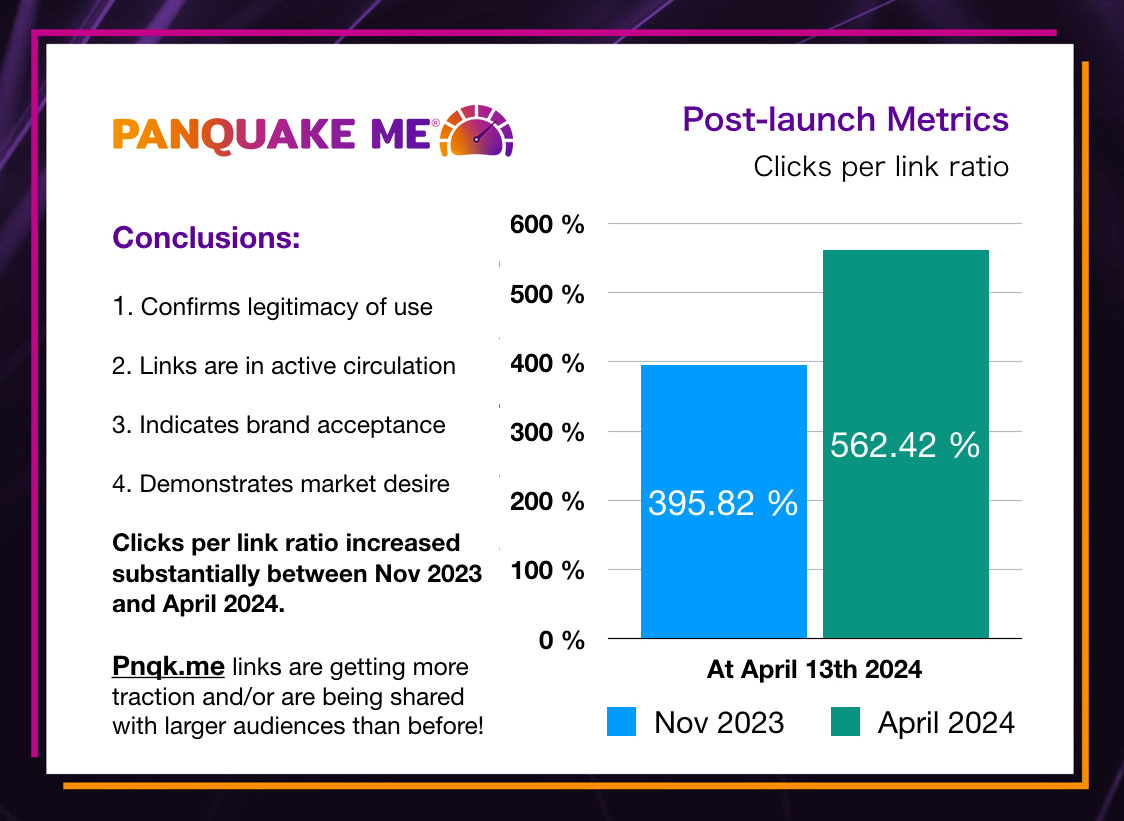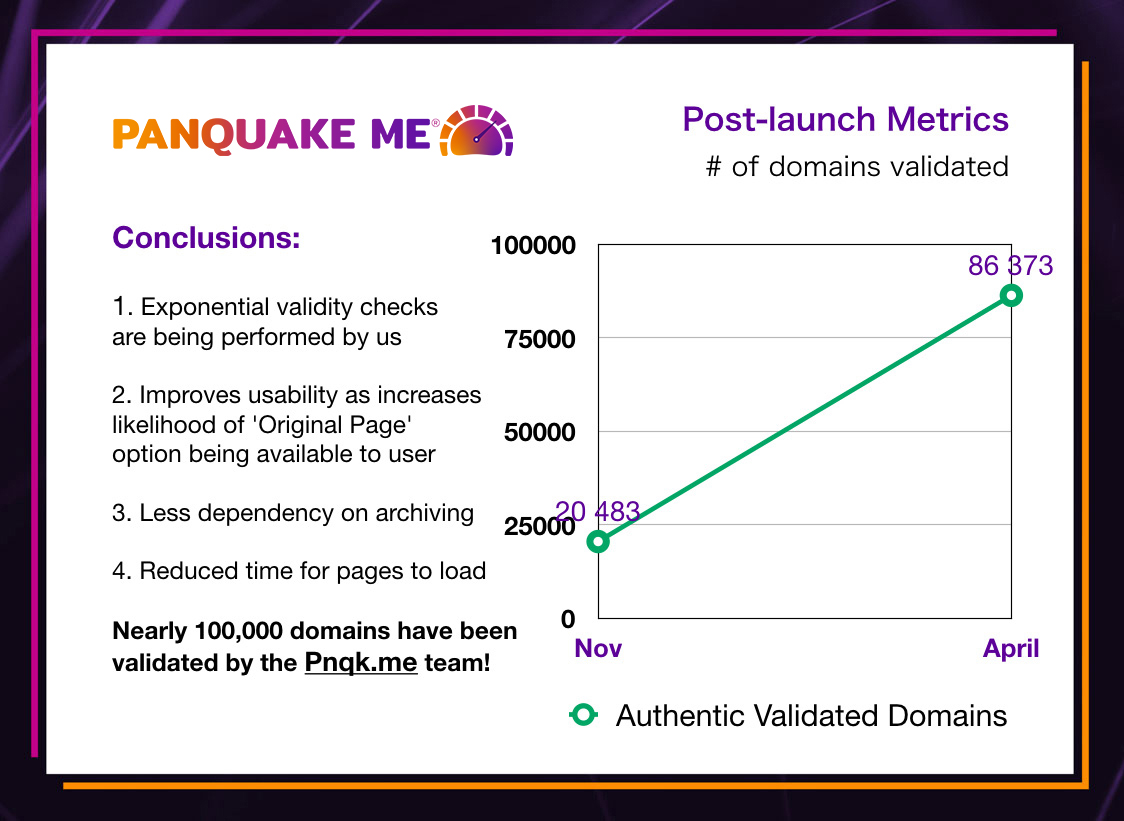 Panquake campaign updates are available on the News section of our website and also at our crowdfunding page.
There you will find over 50 updates posted periodically throughout the course of the project to date, including various graphics that may not be available elsewhere, short and long form videos, links to and transcripts of event appearances, as well as other relevant information.
For our full video archive please visit our Vimeo page.
Milestones achieved and other moments of significance for the highly successful Panquake campaign are memorialized in the Press Releases section of our News page. Please click here to review more than 20 Panquake press releases issued to date and consider bookmarking the link for future reference.
Our press releases contain exclusive quotes from key project personnel, many of which remain relevant and may be cited in your coverage of Panquake.
Panquake design standards set a high bar for independent projects. We are passionate about presenting attractive and well thought out content. There are several repositories of files that may be useful to you:
This super sleek and comprehensive collection of branding files contains dozens of official Panquake logos, banners and related files, in a variety of formats, colours and sizes as well as instructions for their correct usage and display.
You will also find hexadecimal codes for the Panquake palette, as well as font typefaces and related downloadables.
Our Goodies page is a treasure trove of campaign-related graphic files of diverse composition. From wallpapers for desktop and mobile, to promotional .gif images, to quote graphics and share cards, it's all there!
Get a taste for some of Panquake's artworks and collateral, in portrait and landscape, from thumbnails to full sized images. There's even some cute printable Panquake puzzles!
Interested in collaborating with the Panquake executive, marketing or events teams to produce content for your platform or publication? Please download this super simple request form (PDF), fill it out and submit it to media@talkliberation.com
Your cooperation in doing so is gratefully received, as it helps us to better accommodate bookings and establish a basic understanding about your format so that we can best focus relevant content for your audience.